Preface
The Simpson Company, based in Jeffersonville Indiana USA, facilitates the efficient procurement and exportation of both break-bulk and bulk commodities. Our experience in the total logistical nature of such business has been the key growth factor of the company. We assist our global clientele with, and are not limited to, procurement, mainland logistics, shipping, stock efficiency monitoring and financing of commodities specialized by the company.





The Simpson Company is a globally recognized logistical administrator for quality iron ore fines and iron ore pellets to industrial users in the Arabian Gulf, Africa and Asia. Iron ore fines and pellets are shipped to the end user on a turnkey basis and current contracts at hand include short term market price shipments and long term three party shipment schedules.
Our trade department also conducts similar administration on high quality coal to the cement industry via procurement arrangements with major producers in the United States of America and South Africa. We are also developing specialized coal exports from our primary contracts in the United States to cater to the demands of our wide spectrum of industrial user clientele.
Trade and Bulk
Over the years, The Simpson Company has made large inroads within various trade routes and established itself as a leader in markets which have been hard to coordinate supply, demand and transportation logistics. The company now ranks high as a conduit for providing seamless supply of commodities to our established clientele. It is one of the leading and credible international suppliers of grains, sugar, iron ore and coal.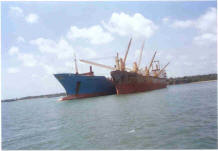 We have coordinated old and established trade routes within the continents of Africa and South America. The company has also, over the last decade, started penetrating the grains trade section into Asia and the Middle East. Trading and Logistics activities now cover over 15 countries where it has associates or direct working branches.